In some cases, we are not able to directly cross reference a seal in our cross reference to pump manufacturers. In order to assure you receive the correct seal for your pump, it is very important that you supply us with accurate information. Below, you will see a sequence of photos which will help us identify the seal assembly you have.
Step 1
The major rotating components are the "seal head" and the "spring". Remove the "seal head" from the "spring".

Step 1
Step 2
On the back side of the "seal head" (the end which fits towards the "spring"), measure the inside diameter. This will determine the seal size diameter - which is either the shaft size or the sleeve size that the seal fits over. The front side of the seal usually has a black carbon face. The carbon face runs against the "stationary" portion or "seat" of the seal assembly.

Step 2
Step 3
Now, measure the "spring" length while it is separated from the "seal head".

Step 3
Step 4
The next step is to measure the outside diameter of the "stationary" or "seat".
Step 4
Step 5
Then, measure the thickness of the "stationary" or "seat".



Step 5
Additional Info Needed
Once you have determined the sizing of your seal, we need to know the materials the seal is made from. Please also supply us with the following information:

1. What is the rotating seal face made from? Is it a black rigid material? Then it is most likely carbon.
2. What are the rubber or elastomer portions of the seal made from? Unless you are pumping chemicals or high temperature liquids, then it is most like Nitrile (also called NBR or Buna-N).
3. What is the "stationary" or "seat" made from? Is it a white, hard material? Or, is it a metal?
4. What shape is the "stationary" or "seat"? Does it have an o-ring around the outside which is in a groove (like the photo above)? Or, does the "stationary" or "seat" have a rubber piece that it fits into which is like a cup? So, the "stationary" or "seat" is either an o-ring mount or a cup mount type.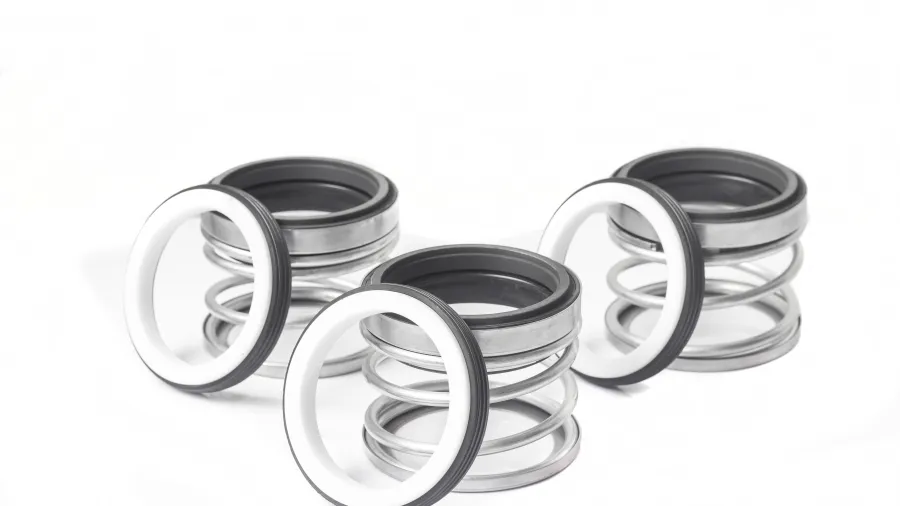 Contact Us
Once you have given us the information above, you will be assured of receiving a seal assembly that will fit and function correctly in your pump. Another option is to send us the entire seal assembly and we will size it and identify the materials, even if the parts are broken or worn. For further information click here to contact us.