EPM Can manufacture Cast Iron Piston Rings fast (typically in 4-6 weeks)
PERMASEAL

TWIN SEAL

Developed specifically to provide the lowest possible leakage of any metallic piston ring seal. The basic design consists of two Butt Cut outer rings, a spring steel anti-extrusion ring, and an elastomeric inner seal. When Twin-Seal is used to pass ports, each outer ring must be wider than the diameter of the port.
HOOK TYPE
Used in automatic transmissions and wherever blind assembly requires passing counter-bores and oil passage slots.
STEP CUT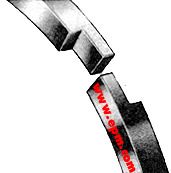 A standard piston ring design with proven reliability for noncritical sealing applications.
BUTT CUT

Most often used where high leakage rates are permitted because of unrestricted oil flow through the open joint.
2 RING SET

A Butt Cut inner ring and a Step Cut outer ring provide excellent high temperature - high pressure sealing performance.
3 RING SET

Best possible sealing with an all metallic seal. Set consists of 1 Butt Cut inner ring and 2 Butt Cut outer rings.
**BUTT, ANGLE & STEP CUT PISTON RINGS AVAILABLE ON SPECIAL ORDER**